LOCATION
We are located in the largest marina in the Southeastern United States. There are approximately 1,390 boats within one mile of our office. Our boats on display are in a high visibility area. Our brokerage office is situated near the water with boats on display at our docks and other locations in our marina.

OUR GOOD NAME
St. Petersburg Yacht Sales & Service, Inc., is synonymous with longevity and stability. Customers have come to us to purchase and sell boats since the 1960's. We have many repeat customers that continue to put their trust in us. We treat them with honesty, integrity and our ability to find the best deal whether buying or selling.

OUR TEAM
We have a great sales team. Read all about us OUR TEAM>>>

ADVERTISING
We have WORLD WIDE listings of our brokerage boats on:
• OUR SITE
• YACHT WORLD
• FLORIDA MARINER
• FLORIDA MARINER ON LINE
• FLORIDA MARINER CLASSIFIEDS
• SAILBOAT LISTINGS ON LINE
• SAILBOAT TRADER ON LINE
• BOAT TRADER ON LINE
• SOUNDINGS ON LINE
• BOAT U.S. ON LINE
• TRADER ON LINE

This list changes often and we try to place your yacht on sites which we have found to give very positive results. Other sites pick up our ads, so the list is never complete.
OUR JOB
• We meet with you and look over the yacht
• Research values and recently sold boat prices
• Suggest an asking price
• Suggest things to do to present the yacht to the market
• We list your yacht
• Create a full and complete specification sheet
• Take high quality photographs of your yacht inside and out
• Place your yacht on our site
• Place your yacht on YACHT WORLD
• Co-broker our listings world wide to other yacht brokers
• Place your listing on many other sites
• Place your listing in print publications
• Print your listing on our hand out sheets
• Place your listing on our picture board
• Participate in your slip rent if your yacht is at our docks
• Wash and run your yacht at our docks
• Show your yacht to prospects and other broker's prospects
• Show boats seven days a week
• Send your listing out to an email list of about 3,000 brokers and customers
• Submit any and all offers to you
• Negotiate the price with your best interest in mind
• Set up and attend the sea trial and survey
• Obtain the written acceptance
• Collect the funds from the buyer
• Hold the closing of the yacht
• Disperse the net funds to you

The cost of the Central Listing service is 10% of the agreed selling price or $3,000 whichever is greater.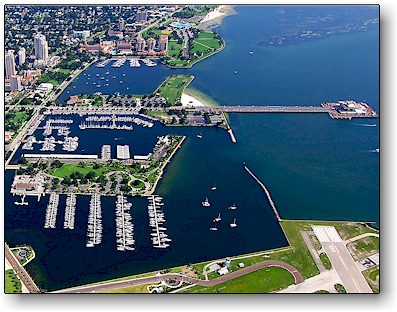 The services we offer include maintenance, buff & wax, cleaning, general repairs, and we have dockage available, at reasonable prices, in the most visible location in the city to display and sell your yacht.

WE APPRECIATE YOUR BUSINESS